EPILOGUE
Before he became sick with the leukemia which was to take his life, Chuck Betsworth, along with many of his Merchant Navy friends, was very involved with the Canadian Merchant Navy Veterans Association (CMNVA). The organisation had been founded in 1982 by Merchant Navy veteran Merv Hartley, at which time it was called the Canadian Merchant Navy Association. During the war the men and women of the Merchant Navy had been officially acknowledged as the "Fourth Arm of the Service", but once the war ended they were forgotten and neglected. Merv Hartley and the CMNA sought to redress those wrongs and focus public attention on the plight of aging Merchant Navy veterans. Sadly, Merv Hartley died in 1987, but other determined men and women carried on in his place and finally in 1998, after a long struggle and many set-backs, the Canadian Merchant Navy Veterans were finally granted full Veteran status by the government of Canada.


This photo was taken at the British Columbia Museum in Victoria, B.C. in November 1994 when a ceremony was held to commemorate the dedication of the Merchant Navy Book of Remembrance on Parliament Hill in Ottawa. Left to right, the Merchant Navy veterans are Captain Phil Toynbee, George Byrnell, Chuck Betsworth and Captain Hill Wilson.

The memorable display in this photo had been set up by members the Vancouver Island Merchant Navy Veterans Association for the 1994 "Canada Remembers" ceremonies. At this time George Byrnell was Chairman and Capt. Hill Wilson was the Vice-Chairman of the Vancouver Island Branch of the CMNA.
Captain Philip (Phil) Toynbee and his brother Arnold Toynbee, both sailed out of the United Kingdom early in the war. Phil went through one air attack when he was on a small European coaster in the North Sea. He then sailed to Australia and back on the Port Line passenger cargo-liner SS Port Victor. Because he wanted very much to return home to serve on a Canadian ship, Phil left the Port Victor when she returned to Britain. During her very next voyage, Port Victor was torpedoed north of the Azores by U-107 and lost with all aboard. Phil's brother, Arnold, who was only 16 at the time, also had a lucky escape when he was serving on the British cargo ship, SS Batna. On May 13, 1942, she was enroute from the United Kingdom to Halifax as part of Convoy ONS-92 when she was torpedoed off Cape Farewell by U-94. Arnold and 39 others were saved by the crew of the plucky little Rescue Ship Bury. After the war, Phil worked for Seaspan International Ltd and he towed double barges to Portland, Oregon and Hawaii. Then, like his brother, Arnold, Phil became a B.C. coast Marine Pilot. Sadly, Arnold passed away in September 1998. His brother, Phil continued to remain active in the Canadian Merchant Navy Veterans Association.
George Byrnell served on several ships during the war, including the Canadian-built 10,000-DWT cargo vessels, SS Winona Park and SS Mission Park. After the war, he earned his living at a variety of jobs and just before he retired, he worked as a Boom Man sorting logs up the northern end of Vancouver Island. In his retirement George made his home in Victoria, B.C. where he taught and played the harmonica and assisted at CMNVA meetings. On September 8, 1996, the Camp Norway Foundation held a special service in honour of those Canadians who had served on Norway's large fleet of merchant ships during the war. During the ceremony, which was held at the British Columbia War Memorial at Esquimalt, B.C., George laid a wreathe on behalf of the Canadian Merchant Navy Association. George was also one of the contributors to Robert G. Halford's book The Unknown Navy: Canada's World War II Merchant Navy. George Byrnell passed away in 2007 at the age of 84. (To view the list of Medallion Recipients who were honoured at the Camp Norway Foundation ceremony, please click here).
Captain Hill Wilson originally trained to become a merchant seaman at St. Margaret's Sea Training School in Hubbard's Cove, Nova Scotia. After he graduated from St. Margaret's, Hill served aboard the Canadian-built 10,000-tonner SS Algonquin Park. After the war, Hill remained at sea and soon achieved his Master's papers. Like Arnold and Phil Toynbee, Hill also became one of the renowned B.C. coast Marine Pilots. In retirement, Hill was very involved in achieving official recognition for Merchant Navy veterans, and he was a key member of the government's Special Benefit Review Committee. During this time Hill was also very involved in the Canadian Merchant Navy Veterans Association, and he served in various positions, including that of Editor of the CMNVA newsletter Red Duster for five years. Hill's devotion to the cause of veterans was officially recognised when he was made a recipient of the Golden Jubilee Medal in 2002 and the Minister of Veterans Affairs Commendation in 2006. Somehow, in his busy retirement years, Hill also found time to write books, including Roll of Honour: Canadian Seamen Lost or Missing During World War Two which he co-wrote with fellow Merchant Navy Veteran and CMNVA member, Donald F. Patterson (1923-2015) and A School of Seamen, A Pride of Ships: St. Margaret's Sea Training School 1942-46.
Although absent from the above photo, another good friend of Chuck's and active Merchant Navy veterans supporter was Captain Frank Culbard. Frank Culbard had been born into a West Coast family which had deep nautical roots. His maternal grandfather, after whom he was named, was the notable English sea-farer and author Frank Thomas Bullen (1857-1915). During World War Two, Frank Culbard was serving aboard the Canadian-owned 5-masted schooner City of Alberni en route to South Africa with lumber when she floundered in the stormy seas off Cape Horn and had to abort the voyage.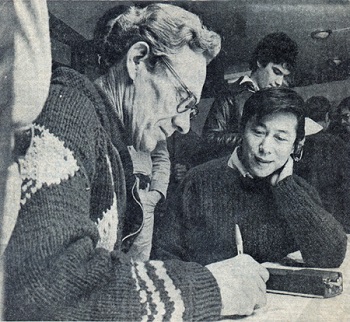 The story of this exciting rescue is told in High Sea, High Risk: The Story of the Sudbury's by Pat Wastell Norris.

In January 1975, Captain Frank Culbard newspaper headlines when as Master of Seaspan's famous deepsea tug, the Sudbury II , he and his crew rescued the crippled Liberian-registered freighter, Corinna , from the stormy waters of the northwest Pacific Ocean. This photo from a Vancouver newspaper shows Frank and the young master of Corinna, Captain Jung Wen Wang, in Vancouver after the dramatic rescue. In his later years Frank and his wife, Virginia settled in the beautiful Deep Bay area of Vancouver Island. In late 1995 Captain Frank Culbard returned to Chile with his fellow City of Alberni shipmates Jack Ickringill, Captain Rod Trail and Bill O'Hagen, to be honoured as the first Canadian members of Amicale Internationale des Capitaines au Long Cours Cap-Hornier (A.I.C.H.) or the "Cape Horners" Club. The society was founded in 1937 by French merchant ship captains who had rounded the dangerous waters off Cape Horn under sail-power alone. Nowadays A.I.C.H. welcomes all those merchant mariners who have sailed or attempted to sail around Cape Horn, as well as those who have ocean-going experience aboard commercial sailing vessels. Frank Culbard maintained his maritime connections all his life and shortly after his return from Chile he went to sea once more and delivered an Icelandic trawler from Iceland to Vancouver, via the Panama Canal. Sadly, Frank passed away only a few short months later in July 1996.



Although Canada's Merchant Marin began to shrink drastically after the war, Chuck Betsworth managed to remain at sea for a few years, during which time he had some memorable experiences. In 1947, Chuck joined the crew of the brand-new American Victory ship, SS Temple Victory , at the Tod-Calship yard in San Pedro, California.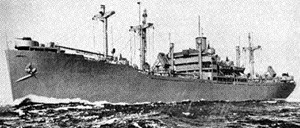 A Class VC2-S-AP2 Victory Ship


From The National Watercraft Collection, US National Museum Bulletin 219, Smithsonian Institution, 1960.

The ship had been built at the Oregon South Building Corporation yard in Portland, Oregon, and she was one of six American-built VC2-S-AP3 Class Victory Ships which had just been purchased by the India Steamship Company. Three of them -- Norway Victory, Dominican Victory and Lewiston Victory were also built at the Oregon yard. The AP3 type of Victory Ship looked much like the war-time AP2 version, but had taller funnels and a faster speed of over 17 knots. After a hold up at the Calship yard while conditions for the crew's wages and return from India were worked out, Temple Victory and her sisters left for the Panama Canal and various American ports where they were to receive their cargo. Along with some of the others, Temple Victory loaded wheat at Galveston, Texas, before she set off across the Atlantic Ocean enroute to the Suez Canal. Chuck recalled being very impressed when Temple Victory logged a speed of 20 knots as she entered the Straits of Gibraltar!

When the ships reached Bombay, India, they were turned over to the India Steamship Company. The new owners, which had already registered the ships in Calcutta, India, then rechristened them Indian Exporter, Indian Trader, Indian Pioneer, Indian Merchant, Indian Shipper, and Indian Navigator. Meanwhile, Chuck and crew members from two of the ships had to wait for a month in Bombay before they managed to obtain passage home on a former C-4 type trooper, Marine Adder. She was operated by the prestigious American President Line, but because her wartime accommodation had not yet been converted, the conditions for the men on board were crowded and hot. After stops at Hong Kong and Shanghai, China, Marine Adder arrived at San Francisco in the middle of the a rail strike. Because of the strike, the Canadian seamen had to then be flown from Bakersfield, California, to Vancouver, B.C., on five old chartered planes. Although the aircraft eventually arrived safely at Vancouver, Chuck later remembered that the flight was "a hair-raising experience with lots of trouble!" But, he continued, "Some crews that arrived in India after us, had to await passage by air which was an even worse disaster than ours!" (To read British Merchant Seaman Bob Shield's tragic tale about the fate of Indian Navigator please click here.)

In 1949, Chuck went to work for the Commercial Pacific Cable Company aboard the cable ship Restorer. CS Restorer had the distinction of having been built in 1902, the same year that the underwater telegraph cable had been laid from the new cable station at Bamfield, British Columbia, across the Pacific Ocean to Australia and New Zealand. The Bamfield Cable Station was strategically located on the west coast of Vancouver Island at the entrance to the Alberni Canal (now Alberni Inlet), and was an important part of the vital communication link between Britain and her colonies. Chuck found that his work aboard Restorer was very interesting and he later regarded it as one of his favourite jobs.

In 1994, Chuck received a Participation Medallion from the government of Norway for his war-time service aboard the motor tanker Pan Europe. In September 1996, his Norwegian service was publically honoured at the Camp Norway Foundation commemorative ceremony -- the same service where his friend, George Byrnell, laid the wreathe on behalf of the Canadian Merchant Navy Association. As well as keeping busy in his retirement with his CMNVA activities, throughout his life Chuck spent many hours building up an extensive maritime library and a fascinating artifact collection. Somehow, he also found time to create beautiful works of art including a model of the famous 4-masted Finnish barque, Herzogin Cecilie, and paintings of the liners Awatea and Corinthic. Chuck and his wife, Sherry, retired on beautiful Vancouver Island, B.C., and at the time of Chuck's death in March 2000, they were living in the picturesque town of Parksville.



THE END





To read more about the fascinating career of the Cable Ship Restorer (1902-1951), please go to Dirk van Oudenol's CS Restorer Page on the History of the Atlantic Cable & Undersea Communications website.


Many thanks to the late LCdr. Frank Saies-Jones (Ret'd), for many years, Curator of the Naval Museum of Alberta , for the information on Convoy HX-357. Frank was a veteran of both the Royal Canadian Navy and the Royal Navy. On April 13, 1941, at the age of 15, he survived the torpedoing of His Majesty's Armed Merchant Cruiser HMS Rajputana. The former P&O passenger liner was on patrol in the Denmark Strait when she was sunk by U-108 with the loss of 41 lives.
---
---


Chuck's pages are maintained by Maureen Venzi and are part of The Allied Merchant Navy of WWII Website.