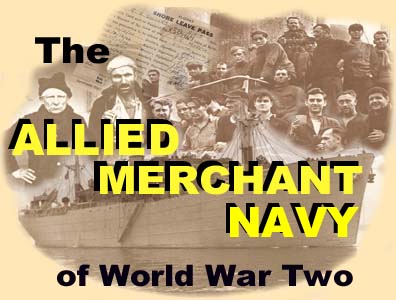 To go directly to Table of Contents Please Click Here
Welcome to our website which is a collection of pages dedicated to those who served in the Allied Merchant Navy during World War Two. All of us who have contributed to this site hope that you will find our topics interesting and educational as well a lasting tribute to the Merchant Navy and all the others who aided them in their vital role. The world today can never repay the debt owed to these men and women. To them we say "Thank you -- we will never forget what you did."


Regretfully, our former Message Board and Guestbook have been discontinued, but please see our various links pages for other websites with specific information on merchant seamen and ships.




---
BILLY McGEE'S ROPNER PARK MERCHANT NAVY MEMORIAL PLAQUE CAMPAIGN & BOOK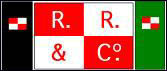 Billy McGee of the former British Merchant Navy at War 1939-1945 website has been very involved over the years to ensure that the contribution of Merchant Seamen will always be remembered. A few of the causes Billy has taken part in are fund-raising for memorial plaques at the Bidadari Gardens, Singapore and the Milag Nord Prisoner of War site in Germany. Billy also joined in the campaign of Canadian Merchant Navy Veterans to have September 3rd designated as Merchant Navy Veterans Day in Canada. Following the success of Billy McGee's efforts to raise money for the Merchant Navy Memorial in beautiful Ropner Park, Stockton-on-Tees, England, Billy wrote his splendid book, Ropner's Navy, honouring the men who served aboard the Ropner ships. For availability, please check Amazon.co.uk.






Stockton-on-Tees's Gazette Live has some very interesting articles about Billy McGee beginning with Andrew Pain's 2005 article "Billy ...and His Heroes". To read that article and Gazette Live's other interesting articles about Billy McGee, go to the main page of Gazette Live and search "Ropner's Navy" .





BILLY'S CANADIAN CASUALTY LIST OF WWII MERCHANT SEAMEN Billy McGee has compiled a list of the Canadian Merchant Mariners lost from Canadian, British and foreign ships in WWII. Billy has also included British Seamen lost on Canadian owned/managed ships. To view Billy's list Please Click Here. To return to this page from the Casualty List, just click on your browser's "Back Button".


THE MILAG NORD MEMORIAL CAMPAIGN


Billy McGee joined in the campaign led by author Gabe Thomas to raise money for the Merchant Navy Prisoner of War Memorial at the site of the WWII PoW camp Milag Nord, near Hamburg, Germany.

After the successful completion of the campaign, Billy wrote the following in his letter of 3 May, 2005:
"The three Milag Memorial Plaques were unveiled in Germany on the 28th April. Have attached photos of them before they were shipped over. The unveiling was attended by 20 ex Milag PoW's and 30 local Germans as well as the Author of Milag: Captives of the Kriegsmarine Gabe Thomas, who first came up with the idea.

Cannot upload photos to my site, so please pass on to any interested parties."



* * * *


To view the photos from Billy McGee, please click on the following links:

Photo One

Photo Two

Photo Three

Gabe Thomas, President of the Merchant Navy Prisoner of War Association, also created the MILAG PoW website which has a wealth of information about the Milag camp as well as the neighbouring Marlag Camp which housed Royal Navy seamen. Be sure to read Milag Nord's Milag Link to Olympics, the story of Percy Coe, Lord Sebastian Coe's father and one of the few survivors of the sinking of A.D. Huff.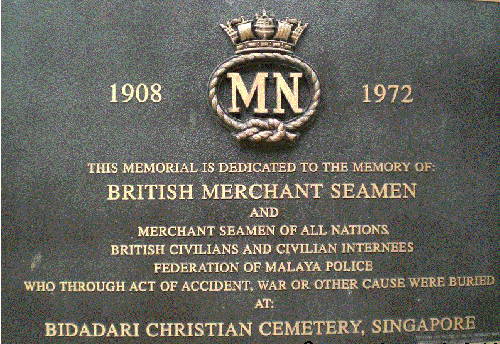 BIDADARI CEMETERY MEMORIAL DEDICATION AND UNVEILING



In 1996 the government of Singapore announced that the historic Bidadari Cemetery, where many merchant seamen were buried, was to become the site of a future housing development. Upon hearing this distressing news in 2001, a small group of concerned ex-Merchant Navy seamen-- including Fred Waddington, Captain John Bax and Billy McGee -- took it upon themselves to raise funds for a permanent bronze Memorial Plaque to be installed in the new Bidadari Memorial Garden. Unfortunately, the British Government did not want to get involved, but the group was able to negotiate successfully with the Singapore authorities. After four long years, sufficient funds were raised and arrangements were made for the plaque to be cast by the talented craftsmen of Arrow Foundry near Melbourne, Australia. The British Merchant Seamen's Plaque at the Bidadari Memorial Garden, Singapore was unveiled in a moving ceremony held on 17 May 2005. The official Press Release read as follows:


PRESS RELEASE
FOR IMMEDIATE RELEASE

Singapore, Tuesday 17th May 2005 A memorial plaque dedicated in memory of British merchant seamen and merchant seamen of all nations, civilians and others buried at the former Bidadari cemetery was unveiled this morning by Commander B. Boxall-Hunt RN OBE representing the UK High Commissioner and Reverend Mervyn Moore, an ex-seafarer; Port Chaplain of the Mission to Seafarers. The unveiling and dedication ceremony of this memorial plaque took place at the Bidadari Garden, located off Mt Vernon Road.

The Bidadari Cemetery is one of Singapore's well-known landmarks dating back to 1907 and was closed for burial in 1972. Amongst those who were buried at the Bidadari Cemetery, many were Merchant Seamen of many nations from old shipping companies like Blue Funnel, Glen Lines, Straits Steamship, Royal Dutch Interocean, CP Ships and British India, etc that traded through Singapore. Ex- Servicemen, Federation of Malaya Police who were killed during service and many others who perished in the Changi internment camps during World War two were also buried at the Bidadari Cemetery.

It is thanks to the efforts of a stalwart group of ex-Merchant Navy Officers who contacted the National Heritage Board, Singapore that this dedication ceremony was organised. It was mutually agreed for a plaque to be placed to show respect to those who had lain within the Bidadari Cemetery by the Merchant Navy and the National Heritage Board, Singapore.

The stalwart group successfully raised sufficient funds through donations, contributed from people all over the world. The donated funds were used for the plaque's manufacture in Australia, shipment to Singapore and plaque installation. The National Heritage Board, Singapore gave much valuable assistance to the stalwart group in their efforts to bring the memorial plaque to Singapore and to erect it at the Bidadari Garden.

The unveiling and dedication of the plaque is a reminder to us all, of those who gave so much for the many. The plaque stands to remember them for all eternity."
---





POST-WAR MERCHANT NAVY OFFICER CAPTAIN JOHN BAX



When he was a young man John Bax took his sea training at the famed Outward Bound Sea School in Aberdovey (Aberdyfi), Wales, before beginning his career with the Alfred Holt (Blue Funnel) Line and the Straits Steamship Company. After he retired from the sea Captain Bax became very active on many things concerning the Merchant Navy. From his home in Ontario, Canada, he generously shared his vast knowledge of ships with others around the world. As well as becoming involved with issues such as the Bidadari Memorial Plaque, Captain Bax also campaigned tirelessly for September 3rd in Canada to be designated as Merchant Navy Veterans Day. The campaign was an arduous one, but Captain Bax was determined to succeed -- he always signed his emails with the caption "We NEVER give up!" Captain Bax was also one of the Moderators on the splendid Merchant Navy Officers website, created by Fred Waddington. Sadly, both Captain Bax and Fred Waddington passed away in 2014 and the Merchant Navy Officers website was taken down. But, their legacy lives on in the many projects they undertook to ensure that the service and sacrifices of Merchant Navy seamen will always be remembered.
The Empress of Ireland Artifacts Campaign



To read about Marion Kelch and the Artifacts Committee's successful campaign to save the Empress of Ireland Artifacts please see the Star News article Empress of Ireland Artifacts Saved.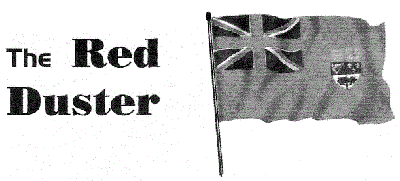 The Canadian Merchant Navy Association encourages Merchant Navy Veterans and their family members to join the association. Please contact the CMNVA Membership Chair and Editor Velma Emberly at the e-mail address of: bvemberly@telus.net
The CMNVA's Official Newsletter is "The Red Duster". To send a submission to the "Red Duster", please contact Velma Emberly at the above email address.


The Second World War Experience Centre in Leeds, England, would like to hear from anyone who is willing to share personal experiences of the war in the form of memoirs, diaries, letters, recorded interviews, etc. For more information Please Click Here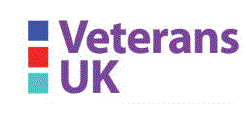 November 7th, 2000: The British government announced that Merchant Seamen and other British groups who were imprisoned by the Japanese in WWII (Far Eastern Prisoners of War or FEPOW) will now receive compensation. For more information please go to the Veterans UK.


---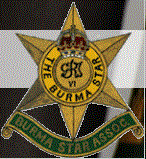 The Burma Star Association website also has information of interest to Far Eastern Prisoners of War (FEPOW).
---
Written by:
Maureen Venzi
Alberta, Canada
I regret that due to lack of time, I'm no longer able to reply to e-mail queries.

Updated 02 February 2016