INTRODUCTION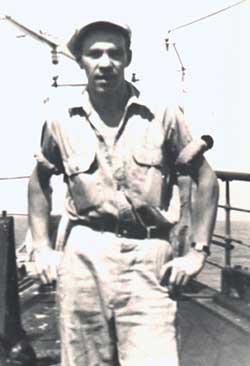 Charles E. "Chuck" Betsworth in1949
Welcome to the homepage of Canadian Merchant Navy Veteran, Charles E. "Chuck" Betsworth who served aboard a variety of merchant ships during World War Two. During his last wartime voyage, made aboard the freighter SS Sapperton Park in April and May 1945, Chuck was able to take along a small camera and one film with which he recorded Sapperton Park's jey across the North Atlantic. Chuck joined the Canadian Merchant Navy in 1942, when he was a lad of 15. He worked on the British Columbia coast for the Union Steamship Company and then for the Canadian Pacific Steamship Company (CPSS) and the Canadian National Steamship Company (CNSS) before going foreign in 1943. His first deep-sea vessel was the Imperial Oil tanker, SS Ontariolite, followed by nearly a year on the Norwegian motor tanker MS Pan Europe. In March 1944 Pan Europe voyaged to Eniwetok Atoll in the Marshall Islands where she supplied fuel to the American naval ships which had helped secure the atoll in the previous month. After his service on Pan Europe Chuck sailed on the Imperial Oil tanker SS Albertolite, before he joined the Vancouver Manning Pool and was assigned to Sapperton Park . Sapperton Park was one of the three hundred and fifty-four 10,000 Dead Weight Ton (DWT) merchant vessels which were built in Canadian shipyards during the war. She was launched by Burrard Dry Dock/Vancouver Dry Dock in Vancouver, British Columbia as the Fort Toulouse (Hull #195) on January 7, 1944. She was intended to be transferred to Britain's Ministry of War Transport (MOWT), and when it was decided to keep her as part of the Canadian "Park" fleet instead, she was completed as Sapperton Park.
When Sapperton Park made her maiden voyage, she had among her personnel, some very unique merchant sailors: her Skipper, Captain John Vosper, her Bosun, Frank Culbard, and her Second/ Third Mate, Jack Ickringill. All these men had the distinction of having recently sailed on one of the last deep-sea sailing ships, the five-masted schooner City of Alberni, when she made an abortive attempt to round Cape Horn. By time Chuck joined Sapperton Park, the Bosun's job had been taken over by Cyril (Cy) Dolga, a survivor of the March 1943 sinking of the CPR troopship, Empress of Canada.

When Chuck signed aboard Sapperton Park on April 4th, 1945, her holds were filled with lead-zinc ingots. She then




Canadian Merchant Navy Badge

sailed to the Vancouver Island ports of Chemainus and Port Alberni to receive a deck-load of B.C. lumber. Then as was customary in this area of the Pacific, Sapperton Park set off by herself down the Pacific Coast on the first stage of her journey to Britain. Although by this time the end of the war with Germany was in sight, the U-boats that were still at large remained a deadly threat to both merchant and naval vessels, especially those on their own. On April 16th, 1945, just around the time that Sapperton Park left Port Alberni, the Canadian minesweeper, HMCS Esquimalt was torpedoed in the Halifax approaches by U-190. Esquimalt had been patrolling on her own when she was attacked and although she was close to Halifax, only 23 of the 70 on board her survived. Sapperton Park's crew remained vigilant as they travelled down to the Panama Canal, where Chuck's photos begin.






---
Voyage of a Merchant Sailor is continued in Part 2