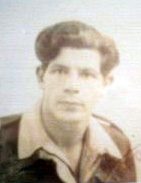 Jim McWilliams
Welcome to the homepage of British Merchant Navy veteran, Jim McWilliams. Jim began his World War Two service on March 17th, 1942 -- St. Patrick's Day -- when he was only 16 years old. Jim's first ship was Royal Mail Line's elderly passenger liner, the SS Almanzora. The 15,500-ton Almanzora had been built just at the start of the First World War and during that conflict she served her country as an Armed Merchant Cruiser (AMC). Two of her sister ships which were also serving as AMC's became famous on February 29th, 1916, when one of them, the SS Alcantara, got into a battle with and was sunk by the German auxiliary cruiser Greif. The other sister Andes went to the aid of Alcantara and then rescued survivors from both Alcantara and Greif. Andes survived her service in the First World War, returned to her intended role of passenger liner in the 1920's, and then in the 1930's became well-known as the cruise ship Atlantis. She was purchased by the British government in 1939 and then served throughout the Second World War as the Hospital Ship Atlantis. After completing her World War One role as an AMC, for the next two decades the Almanzora faithfully serviced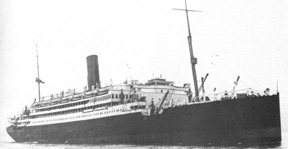 In July 1943, Almanzora took part in the Sicily Landings and had the honour of serving as the Commodore Ship of Convoy MWF-37. She survived the war and was broken up in 1948. Photo from Great Passenger Ships of the World, Volume 1 by Arnold Kludas.

the Royal Mail Line's route from Southampton, England to La Plata, Argentina. After World War Two started, Almanzora was converted into a troopship and before Jim joined her, she assisted in the rescue of survivors from the Cunard White Star liner Georgic, when Georgic was bombed at Suez in July 1941. When Jim signed aboard Almanzora, she embarked troops for the destination of Bombay, India via Capetown, South Africa.

Almanzora's voyage to India was completed safely and upon her return to Britain, Jim was transferred to another passenger liner serving as a troopship, the MV Winchester Castle. The 20,000-ton Winchester Castle belonged to the well-known Union-Castle Line and she was a more modern liner than the Almanzora, having been built in the late 1920's. Unlike the steam-powered Almanzora, Winchester Castle had a diesel motor. She was also capable of a speed of 20 knots, 3 knots more than Almanzora. Before the war Winchester Castle had been used on the company's route from Southampton to Cape Town. After the start of World War II she


The MV Winchester Castle also took part in the Allied landings at Sicily, Anzio, and Southern France. She too was a lucky ship and survived the war. Photo from Great Passenger Ships of the World, Volume 3 by Arnold Kludas.

was fitted out as a troop transport and in 1941 she was used as a training ship for troop landings. In May 1942 she took part in the Allied landings on the strategic Indian Ocean island of Madagascar. Winchester Castle returned safely from Madagascar and when Jim joined her she embarked troops for another vital Allied undertaking, the November 1942 "Operation Torch" Landings in North Africa. She was returning home from North Africa on November 14th, 1942 when her convoy was attacked off the coast of Portugal. Winchester Castle was targeted by U-413, but the u-boat showed herself in the heavy sea, giving the troopship just enough time to take evasive action and avoid being hit. Unfortunately, Warwick Castle which was the next ship in line was not so lucky, and she was sunk by U-413 with the loss of 63 lives.

During the rest of the war Jim served aboard the tanker British Honour, owned by the British Tanker Company. The company suffered high losses during the war -- 44 vessels in all -- but British Honour was one of the lucky ones. She travelled widely while Jim served on her and among the ports she visited were Rekjavik, Iceland, Maricaibo, Venezuela, the American naval base of Guantanamo Bay, Cuba and various cities in the United States.

Jim had many adventures during the war, some good and some bad, but all of them remained vividly in his mind over half a century later. Jim has evoked the memories of those long-ago sea-faring days in his lovely poem, "The Callow Lad".